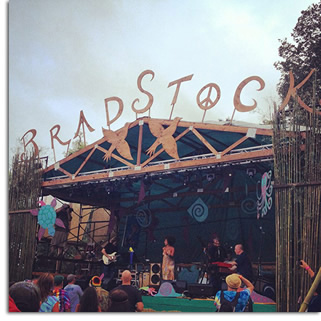 Over Labor Day weekend in 1994, several friends from the Bayport-Sayville area organized a day of music, food and fun. Held in the backyard of Bayport resident Brad Ringhouse, the event, which proved to be a rousing success, was aptly dubbed "Bradstock." With enthusiasm sky high, the all-volunteer organizers planned Bradstock II for the following Labor Day. However, two extra ingredients were to be added to the original, successful formula - a focus on our environment, and a determination to raise funds to donate to area organizations. The good time had by all was to be complemented with a good cause supported by all. Which is exactly what has happened.
With the buzz of the first two Bradstocks encouraging new participants to join the cause, and with the success of the festivals far surpassing what the organizers could have ever imagined, Bradstocks III and IV were held on the grounds of Meadowcroft in Bayport. Artists came to display their work, various not-for-profit environmental organizations set up informative, educational booths, and new musicians eagerly joined Bradstock's solid line-up of performers. Best of all, the events generated profits, as well as canned foodstuffs, which was donated and distributed to local good causes.
In 1998, the festival's organizers had to find a new home to host an event heading into its fifth year. Reluctantly leaving the South Shore, Bradstocks V and VI were held at the Flowerfield Fairgrounds in St. James, a lovely, functional setting that unfortunately dramatically increased venue costs, and moved us away from our "backyard." And while the fun and music at the 1998 and 1999 events ultimately surpassed the previous festivals, Bradstock V ran in the red and Bradstock VI just barely broke even. With financial resources nonexistent, all Bradstock donations to not-for-profits came to a sad end. On a bright note, the canned foodstuffs brought by the guests and given to the Sayville Food Pantry and Island Harvest reached record highs.
It was at Bradstock V that the maestro David Amram first came to our stage. David is an extraordinary human being and musical legend whose talents, tales and enthusiasm have bolstered our event in ways and directions that we could never have accomplished without his support and participation. Thank you David and company!!
With the new millennium upon us, Bradstock's organizers reflected on all they had accomplished, as well as what they wanted to achieve with Bradstock VII. With all the time, energy, and hard work contributed by the organizers, musicians and volunteers, the ends of Bradstock simply had to justify the means. Along with the music, fun and fellowship, the desire for the festival to again generate money for worthy causes, and enlightens participants about improving the environment, once again became the focal point for the event. As well, there was a strong desire to bring the event back to the South Shore.
A conversation in May 2000 with the Director of the Long Island Maritime Museum in West Sayville opened our eyes to what had been in our backyard all along.
In many ways the LIMM represented the ideals of the Circle of Chiefs. It is an educational institution that strives to preserve the cultural history of Long Island's south shore, while along the way exploring the science of marine biology and rediscovering the artistry of the boat builder's craft. In Bradstock's grandest dreams, the organizers hoped for a success to rival Pete Seeger's Clearwater Revival, which did so much to help the Hudson River overcome threats from pollution. If our festival, and the bands who play there, and the environmental groups who set up the exhibits there, can help raise prople's consciousness about the Great South Bay, then the time and energy volunteered to host Bradstock is well spent.
Bradstock VII, held on grounds of the museum, smack dab along the Great South Bay, was a huge success. Although torrential rains were reported far and wide, ole father sun decided to keep us dry with just a few minor drops throughout the day!
Sunny skies and even greater success prevailed on Bradstock VIII, with Bradstock IX reigning love on the 800 strong who braved the drenching rain to enjoy the finest music yet. Bradstock X was a beautiful sunshine daydream and ushered in the addition of a second stage to our festival and seamless set transitions. Bradstock XI - The Eleven, the quintessential splendiferous outing was a personal favorite. Bradstock XII was proof that the labor of love among volunteers, musicians, and deadicated Bradstockers remains unsurpassed and was highlighted with a tribute to Hunter S. Thompson that included an onstage reading of his works by Dr. Thompson's widow Anita. Bradstock XII was a yet another display of music lover's camaraderie and increased giving both in food and funds. Number XIII presented weather challenges - including high winds that caused the hard working stage crew to have to wait until Sunday morning to complete the stage construction and final tent erection. The many Bradstock volunteers managed to soak up gallons of water left by the heavy storm. The hard work of these Bradstockers provided for another successful year. Bradstock XIV looked back for inspiration to San Francisco in its tie-dye heyday. The spirit was palpable and the day was spotless filled with dancing, singing, and enjoying the positive vibrations. As for Bradstock XV - the music did not want to stop as the sun shone down in absolute splendor. The 40th anniversary of Woodstock was reason enough for Bradstock XVI to be a success in every way. While we did not close down the NY State thruway, those in attendance who also were in Bethel back in August of 1969, report that in terms of love, peace and music, Bradstock XVI held its own.
And then there was Bradstock XVII. The compass always points to Terrapin Station. Who could of envisioned such an outpouring of humanity when we started on this journey so many years ago? Despite the usual roadbloacks - and some new ones thrown at us this year - Bradstock prevailed and the best Bstock to date unfolded before our very eyes! We had to close the gates at 5 pm as the numbers swelled. Many first timers enjoyed the special magic that is Bradstock – celebration, goodness, giving and generous doses of music served up sweetly and well.
XVII closed the door on our relationship with the Maritime Museum for reasons we need not go into here. Let us just say that we had an excellent 11 year run alongside the Great South Bay in West Sayville, We wish the Museum good luck in all its future endeavors.
Every end is a new beginning. With guidance provided by our own KC Cowan, Bradstock packed up its bags and arrived at beautiful Camp Pa-Qua-Tuck (a camp whose mission for the past 60 years has been to provide a summer camp experience for children with physical challenges. We thank our hosts the Rotary Club of Center Moriches and salute them for their success in carrying out such an excellent program).
It was truly touch and go as we wrestled with a new location and I dare say some in the family did not think the show could go on. Nonetheless Bradstock XVIII did go on, albeit with a much smaller crowd and back to one main stage, but it is safe to say we fell in love with the Camp. The vibe reminded many old timers of the very early Bstock's and the camp grounds lend themselves to growing our festival in new and splendid ways.
And that is what happened at Bradstock XIX. Not content with one main stage, we created a singer/songwriter pavilion located back in the woods where we were entertained by 20 acoustic performers throughout the day. Not to be outdone, the poets of Bradstock now have a stage to call their own – the Poetry Porch was christened at XVIII, enabling the ranks of poets reading and reciting to grow by leaps and bounds. For XIX, the weather held true and more folks came to the party to discover the joy of the camp – still not quite the perfect headcount but moving in the right direction.
Most importantly our relationship with the Camp grew closer as we were able to donate $10,000 for both XVIII and XIX. In addition, the Camp directors agreed to our suggestion that a portion of our donation be used to fund a music program for the campers in memory of KC – Professor Rub'a Dub – Cowan. KC passed away in October of 2011 but is with us as our spiritual guide and North star (and the beer ain't bad either!).
And then we made it to Bradstoctok XX. Who would have thought standing in Brad's back yard that twenty years of festival lay ahead? That a group of friends could keep on year after year to build the stage and raise the flag? That musicians would continue to want to play at the party, donating freely their time and talent? That five different locations would host the festival over time. Celebration XX had the weekend kick off with a very nice Sergeant Pepper tribute by Uncle B and Friends as it was twenty years ago today that Bradstock asked the bands to play. We added a special touch at this year's festival – allowing the Poerty Porch to host young musicians on Saturday, where many played for the first time in a public setting. And the Chiefs were again able to present to the Camp a $10,000 donation.
We had a feeling XXI was going to be a good year – and it was! Bradstock XXI was especially memorable because we had our first nuptial celebration! That's right, Lisa and Derrick were married on the Camp grounds Saturday morning. A gorgeous day for a beautiful couple and especially poignant as Derrick has been a sturdy Chief ever since Bradstock I in Brad's backyard (I seem to recall he made at least one of the several beer runs that day). Love was in the air all weekend long. The Singer/songwriter pavilion continues to flourish with close to 40 acts scheduled over the weekend. And there were unconfirmed reports that the pavilion was the go to location for some after-hours acoustic jamming. Even though Sunday's weather turned overcast, the generosity of Bradstockers allowed a donation of $12,000 to be made to Camp Pa-Qua-Tuck.
Bradstock XXII – double deuces – knocked it out of the park and took the cover off the ball. We seem to have found the groove here at Camp and the weather was the finest we have yet experienced in Center Moriches. XXII saw the addition of the Flower Power stage bringing to three the number of spaces for our musicians to perform and attendees to enjoy. In fact, with the number of acts now presenting over the weekend, it has become a real challenge to decide just where you want to be at any given time! But that my friends is a good problem to have. The quality and variety of music and poetry is truly epic. And truly historical was the performance on the main stage Sunday, when our own Andy Falco teamed up with David Bromberg to enchant us all with their acoustic abilities, downhome humor and vocal artistry. Wow! A $15,000 donation to the Camp was the perfect ending to XXII.
And on to XXIII. Our love affair with Camp Pa-Qua-Tuck is going strong. XXIII saw Bradstock's artists and stage crew step up their game with an orchestrated theme between the main, acoustic and flower power stages – "Pangea" - taking us back to the garden and exploring the concept that we are all one with each other and one with mother earth. And dear mother did have us quite excited with the prospect of Hurricane Hermine making an unwelcome entrance. The forecast Saturday night for Sunday was high winds and heavy rains. The Chiefs had to bear down hard to keep all systems go. Sunday came with perhaps the most superb weather of any Bradstock ever. The fear of rain kept away a good number of Sunday attendees and brought the total receipts down but the Circle of Chiefs still was able to present the Camp with a $12,000 donation.
Last year we celebrated 24 years of Bradstock magic and hearkened back 50 years to 1967 - The Summer of Love. And isn't that really the magic ingredient that propels our Circle of Chiefs year after year? Love. Community. Music. XXIV attendees were treated to a performance by none other than Tom Constanten, former Grateful Dead keyboardist, who with his band Live Dead 69 brought that San Francisco vibe to Center Moriches. Mother Nature once again had us on pins and needles as Saturday night's howling winds had us hold our breaths on what Sunday would bring. Sunshine poured down and XXIV gloriously played on right up to the Electrix's second encore to close out the festival with a homage to the passing of Chuck Berry – Johnny B. Goode!
And that brings us today to our silver anniversary – XXV years of Bradstock karma. May the Circle of Chiefs be unbroken!
The Camp has so much to offer – not just to Bradstock but to the campers it hosts throughout the summer. Knowing that our donations are helping children with special challenges have a week of summer fun and camp enjoyment is a true motivator to the Circle of Chiefs. The hardy band of regulars and the newbies who decide they want to participate and give of their time and effort to make Bradstock happen are inspired by the mission of the Camp. We especially want to acknowledge the support of Camp Director Bridget Costello and the Board of the Rotary Health Club of Center Moriches as we work together to improve our Festival and continue to make enduring contributions to the Camp.
Along the way, Bradstock has joined with WUSB 90.1 FM, the radio station of the University of Stony Brook, to offer what we believe to be the longest continuous college radio station simulcast in the nation. WUSB has sent out its live signal -11 am to 10 pm – from the grounds of Bradstock ever since Bradstock X (I'll have to check that fact with Chris LaPorta, who has been the WUSB host all along) allowing listeners around the island, and via www.wusb.fm, around the world, to be part of the Bradstock festival. Thank you WUSB!
Thanks to the generosity of the many friends of Bradstock, in the past twenty-three years we have donated over $275,000 including $120,000 to Camp-Pa-Qua-Tuck. Other beneficiaries include the Long Island Maritime Museum, Friends of Connetquot River State Park, the Sayville Kiwanis Club, G.R.O.W., WUSB, They Often Cry Out, the Unbroken Chain Foundation, the Sayville Village Improvement Society, the Bayport and West Sayville Civic Associations and the Peconic Baykeeper And let's not forget our friends from the U.S. Coast Guard Chief Petty Officers Association, who man and woman the grills to keep us in grub over the weekend. The profits from the sale of the food goes to fund their own charitable cause – and they kick in a contribution to Bradstock as well. And over these many years, the Bradstock organization has donated a mountain of food and ongoing monetary contributions to Island Harvest to help those less fortunate than ourselves. The Chiefs presented a check for $3,000 to Island Harvest at this year's Platinum Party.
We are confident that the Circle of Chiefs moves forward in a manner befitting the labor that we expend. May the circle be unbroken.
You may be surprised to learn that Bradstock is a year round event. Help us perpetuate what started way back in Brad's backyard. BRADSTOCK MEETINGS ARE OPEN TO ALL, AND ALL ARE INVITED TO ATTEND! There are no mysteries to Bradstock, just an open exchange of ideas and good old fashion stick-to-it-ness. The Circle of Chiefs welcomes and embraces new faces who share the Bradstock creed, "A good time for a good cause." Stop by the entrance today and make sure you are on the email list and let us know if you want to help. Smile at your neighbor. Recycle your cans and bottles. Pick up your litter. And if you're motivated, come back on Monday to help us clean up and take it all down and put away until next year - Bradstock XXVI. It could be big!